2012 My First Ikebana
This time I had a very ambitious plan before making my trip to Japan; that is taking an Ikebana lesson even I didn't know anything about Ikebana (and I hate gardening). Do I want to become an Ikebana master someday? Probably not.
I thought I could learn a lot from Ikebana regarding to constructing an art piece and I could use those knowledge to enhance my photography skills.
I somehow found the following Ikebana class in Kyoto and thought the class would meet my expectation. They also offered a trial lesson (without admitting to the class) for 3000 yen (approx $37); it included the cost for flowers.
Ikebana class, Ren Rin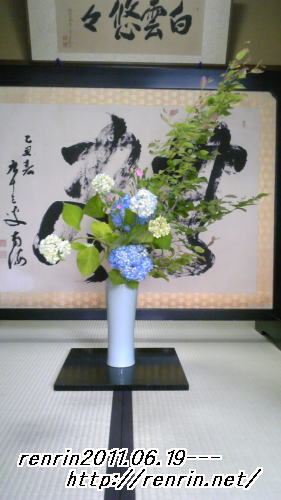 Here is what I have found out in the class.
The class was held in a meeting room of a Buddhism temple (much like a community center).
For the day I visited, the class was open from 11am ~ 9pm and I went there around 6pm and stayed until the end of the class.
Each students can pick his/her own time and spend around 2 hours to finish the assignment of the day.
If I remember correctly there were seven students besides me while I was there (some students finished their lesson earlier) and three of them were male students and the rest were female. Ikebana was once considered a must (like cooking skill) for young ladies before getting married (my mother did, too). But it seemed that Ikebana was no longer associating with such stereotype and now was considered as one type of Japanese traditional art (even some Ikebana pieces look very contemporary). The class atmosphere was casual and relaxed but students were usually very focused on their own assignments.
The instructor (Ikebana master) was a young guy (born in 1972) but won several Ikebana competitions. I like his style of teaching and I was quite impressed about his ability to analyze students' Ikebana work and make necessary corrections (with explanations). That is not easy thing to do as each Ikebana piece is different (choice of vase, choice of flower, season, picked theme, …).
There are many Ikebana sects. The Ikebana master told me that there could be up to one thousand Ikebana sects in Japan. That reminded me Protestant sects in the US. Well, the number of Protestant denominations seems well above one thousand (my quick search showed over 30 thousands!).
My trial lesson went this way:
First I was given a set of flowers, which were picked by the Ikebana master. And the choice of flower is only something I didn't pick.
Then I was instructed to pick a vase that matches the Ikebana (moribana) I was going to construct. Later I found that a choice of vase was also very important, as much significant as pick of flowers.
The Ikebana master told me that envision the Ikebana I wanted to create out of these flowers. He told me that I needed a focus (which flower, which side of flower, …) and reminded me that I didn't need to use up all of flowers given. He also demonstrated that flower looked differently depending up how it was presented (i.e angle).
Now, it was up to me how to create my first Ikebana. The Ikebana master emphasized that I should use my "brain", oh my poor brain!
I picked Eustoma (トルコ 桔梗)
as the focus of my Ikebana and placed other flowers around it (he told me the names of other flowers but I didn't write them down). After several trial and error iterations, I came up with the one shown as BEFORE. But I didn't like it but I didn't know how to fix it. My complain was "looked stuffy, almost suffocating".
The Ikebana master noticed that I could not go further and signaled that he could review my Ikebana. He pointed out shortcomings of my Ikebana and showed his fixes to the shortcomings. After his tweaks, the Ikebana piece became more airy and attractive. The difference was almost the difference between 3D and 2D.
Although I didn't do, some students did re-do the whole piece after being reviewed by the Ikebana master to master what he/she learned from the assignment. Note that once you admit to his Ikebana school, a textbook was used and assignments will be given to master Ikebana step by step (but not for trial lesson).
I stayed in the class to see how other students finished their assignments and how the Ikebana master refine each Ikebana piece. I found that Ikebana is much deeper and more profound than I naively thought.
It was a great experience and wish to take his lesson in near future. BTW, according to the Ikebana master, time to time some foreigners came to his class to experience Ikebana. I think it would be a great way to experience Kyoto and Japan.
BEFORE (this is what I came up with; and I didn't like it but didn't know how to fix)
AFTER (after heavy retouch being made by the Ikebana master)
Trust me; the difference between BEFORE and AFTER were much more potent than it appeared to be.
Ikebana pieces from other students who happened to be there on the day (after retouched by the Ikebana master).
They were more advanced than me such that their pieces didn't need heavy retouch like mine.
HIIRAGI-YA
I came to know that a gentleman sitting next to me was working for a famous Ryokan (a traditional Japanese inn) in Kyoto, Hiiragiya. He and I were talking about the Ryokan experience in Kyoto, particularlily staying at such high-end Ryokan. Naturaly I asked about the price range. He said it would start around 30000 yen (approx $370) and could go up to 90000 yen (approx $1100) per person, per night including two meals. The price would be a bit affordable if you stay at its annexe.
He suggested me that I should stay at the main building of Hiragiya (not the annexe) and should pick a good room (at least 50000 yen) if I really want to experience such high-end Ryokan in Kyoto. This is more like staying at Fairmont Hotel in San Francisco (it could costs you up to $900/night without meal).
He believed that it would worth the money and I believe him. If you have enough money to spend and want to enjoy Kyoto experience (mix of contemporary and tradition plus exquisite dining), you may want to check it out. I may be willing to consider it if it is for honey moon or something. Otherwise, probably not (I'm cheap).
Hiiragiya Genkan (entryway) - scanned from their brochure
page revision: 0, last edited: 23 Sep 2014 21:59